STERLING RANCH

Littleton, Colorado
This new home community is composed of eight different builders, each with a variety of floorplans to meet the wants and needs of every type of living style!
Providence Village is located in southern Littleton near Santa Fe and Titan, and it is the first of nine villages to be built within the Sterling Ranch community over the next 20 years. Builders were strictly required to offer a mix of both 2-Story and Ranch Style homes with unique Colorado architecture ranging from farm and old town to modern and city styles. This strong resistance against the cookie-cutter movement means there is truly something for everyone here!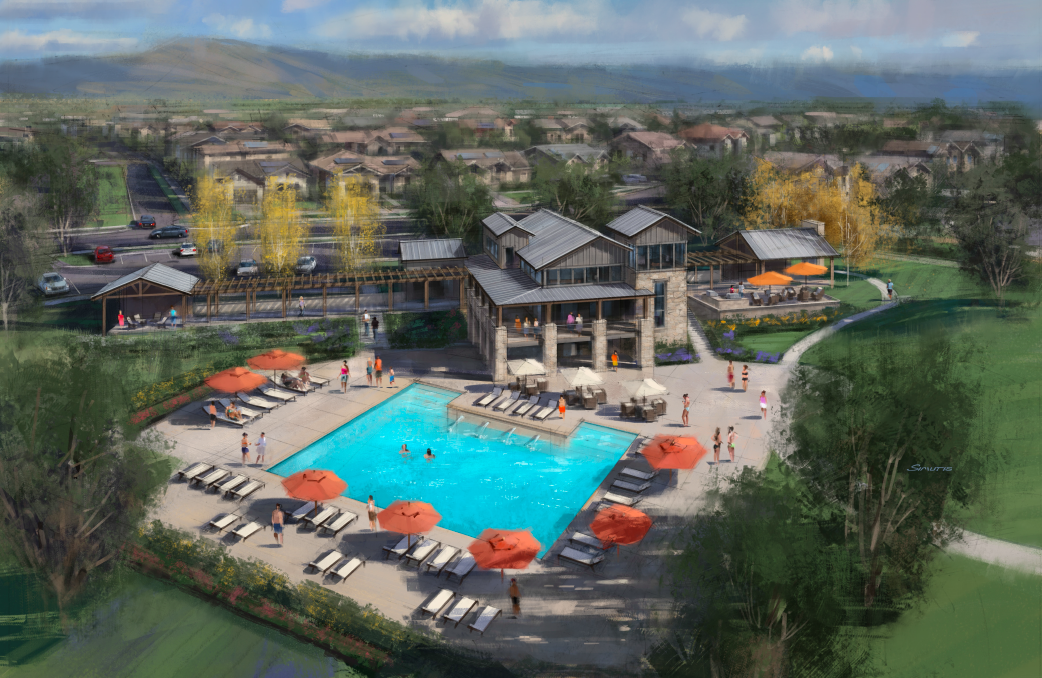 Exploring Nature
With approximately 30 miles of planned internal trails throughout the community and connections to multiple state and regional trail systems, there's nothing holding you back from taking a hike, jog, bike or stroll today, and every day.
Terrain Trails: Navigate through nature and allow yourself to take in spectacular views of the Front Range to the west and the Denver skyline to the north. Notice the land's varied topography composed of rolling hills, ravines and gullies as you make your way around the community. You may encounter friendly rabbits and squirrels, discover the habitat of a Western burrowing owl, or see deer migrating through one of the community's wildlife corridors.
Groomed Pathways: A way to connect you to everything important. You can make your way from one side of the community to the other on a system of intelligently orchestrated internal paths. With slower traffic speeds enforced throughout the community, your safety is a top priority. If you want to explore nature even further, Sterling Ranch master plans will have connections to state and regional trail systems like the 486 mile Colorado Trail which begins at nearby Waterton Canyon. Chatfield State Park and the High Line Canal Trail are neighbors to the north. Roxborough State Park is right next door and connects to the Sharptail Ridge trail system and Pike National Forest.
What We Love About Sterling Ranch
Sterling Ranch is the perfect community for anyone who loves nature, technology, or saving money! This community is committed to the future of Colorado's nature and wildlife with a 21st-century approach to sustainable development. As Colorado's first rain harvesting community, they buy only the groundwater necessary to supplement their renewable water. The developers also partnered with Denver's Botanical Gardens to create a list of drought-resistant plants for the landscaping. Because each home is equipped with a Stewards Smart-Pad (by Siemens), your home can detect water and energy losses, giving you tips on how to save more than just your time! Continuing with cutting edge technology, each home is provided 1 gig of fiber by Century Link and is wired for both solar panels and electric car charging. This community brings a whole new meaning to the idea of 'elevated living'.
As a final touch, the community will be 40% open space, encouraging community and walkability. There will be 30 miles of internal trails connecting to hundreds of miles of external trails. Providence Village alone will have 5 miles of internal trails with 85 acres of open space. All residences are provided annual State Park Passes, granting you free access to all of Colorado's beautiful State Parks, including Roxborough and Chatfield just minutes from your doorstep.
Construction Status
Sterling Ranch will be starting Phase 2 of 9 in 2019. Ascent Village will be the largest of their 9 villages and will offer more variety of housing options than before. With over 1600 properties total, there will be a mix of detached single-family homes, duplexes, and townhomes. There will also be designated age-restricted areas for those looking for age-targeted communities.
Construction for Sterling Ranch's first recreation center began in late 2018 and is expected to be completed sometime in 2020. Also, the UC Health Center for urgent care is open and has been renamed The Sterling Ranch Medical Center.
Prospect Village will begin building in 2020, and may also include Sterling Ranch's first outdoor pool, sledding hill, and condo buildings.
Looking Towards the Future
Opening in time for the Summer of 2019 will be Sterling Ranch's new recreation center and will be provided to all residents as a part of their homeownership. It will host cardio equipment, weight equipment, and other cabled equipment that can be utilized without the supervision of one-on-one coaches and offers resort-like amenities featuring the following:
- Large pool with a patio deck, a community exercise facility, and high-end locker room facilities.
- Second floor "Great Hall," with an adjoining kitchen facility, will be provided for the benefit of community events and gatherings.
- Outdoor areas around the recreation center will also provide flexible use of space and facilities for outdoor play and gathering and will become a thriving community meeting points fit for a multitude of uses.
Educating The Next Generation
Sterling Ranch has set aside $1500 per home ($30 Million) to help Douglas County School District build five elementary schools, one middle school, and one high school. There are also 100 acres of land set aside for advanced or higher education facilities. Buses provide transportation from Sterling Ranch to the public feeder schools: Roxborough Primary and Intermediate School (K-6 grades), Ranch View Middle School (7-8 grades), and ThunderRidge High School (9-12 grades). There are also multiple charter and private schools nearby.
HOA
There are no separate HOA fees at Sterling Ranch. Instead, community governance is provided by the Community Authority Board (the "CAB").
The CAB is comprised of representatives from seven metropolitan districts. The CAB may provide services often performed by an HOA, such as maintenance of underground water, sewer, and stormwater systems, snow removal in parks, alleys, and motor courts, and similar services. Each home is assessed an annual mill levy, which is a property tax, to provide revenue for these services and for debt payments. By including these services in the CAB, parallel governing entities are eliminated, and a consistent and reliable revenue stream is created. The Douglas County TOTAL Mill Levy is 165.542, and includes Sterling Ranch Metropolitan District Mill Levy of 88.44.
[COMMUNITY UPDATES]