HERITAGE HILLS Lone Tree, Colorado
Heritage Hills offers a beautiful, family-friendly gated community, conveniently located within walking distance to the light rail station, and close to both I-25 and C-470 for an easy morning commute. Being close to the things you need gives you more time for the people you love!
WHAT WE LOVE
Heritage Homes is conveniently located near the Park Meadows Mall, exceptional shopping, and plenty of fine dining restaurants. There is always something to do in Lone Tree! Within the community, there are four tennis courts, a basketball half-court, a mini soccer field, parks, playgrounds, and two junior-Olympic size pools. These tight-knit group of neighbors also host numerous spontaneous events like block parties, wine tastings, bridge groups, poker nights, and coffee klatches. Come feel right at home where people genuinely like their neighbors!
CONSTRUCTION STATUS
THE OVERLOOK AT HERITAGE HILLS: EUROPEAN-INSPIRED LUXURY HOMES IN LONE TREE.


Although its architecture evokes the timeless charm of France, Italy, and Spain, The Overlook offers Colorado luxury living at its best. Perched atop the highest elevation in Heritage Hills and true to its name, The Overlook's prime location within the community offers Front Range and city views. To maximize that aspect, these new homes in Lone Tree include festive courtyards and outdoor rooms to take advantage of the quintessential Colorado lifestyle.
With wide-open floorplans and rooms that flow intuitively from one to another, Overlook homes thoughtfully accommodate how modern, multi-tasking families will use them. Generous family rooms, libraries, mud rooms, butlers pantries and casitas (a private enclave for houseguests) make entertaining easy and enjoyable.
The Overlook homes at Heritage Hills have been honored with both local and national awards recognizing architectural and interior design excellence.
THE LAST CUSTOM HOMES IN LONE TREE, PRICED FROM $1.5 MILLION+.
Just a few remaining custom luxury home lots at Heritage Hills—so now's the time to bring your dream home to life. And in a well-established South Denver community, you'll love. Your new custom Heritage Hills home in Lone Tree starts with a unique home site in the final phase of the prestigious Summit neighborhood.
You may choose from a variety of luxury home styles, whatever suits you. From contemporary and Colorado-rustic to West Coast, Tuscan and Old World. This diversity of architecture not only allows you to choose exactly the architectural style you love, it adds to the character and charm of this custom luxury home community. It creates a distinctive identity for the neighborhood and adds to the lasting value of the homes themselves.
Once you've chosen your style, you will personalize your home so it feels like, well … your home. These are some of the largest luxury homes in Heritage Hills, so there will be plenty to put your mark on. From building materials and elevations to finishes and landscaping. You can be as involved as you want or rely on our experts to put together a home that wows.
CONCERNS
Heritage Hills is in a desirable location with rare large lot sizes, amenities within arm's reach, and access to shorter commutes and public transportation. However, because of that, their prices are much higher and there are only a few lots available. These highly sought-after homes may be out of reach for many buyers.
SCHOOLS
THE DOUGLAS COUNTY SCHOOL DISTRICT IS AT THE TOP OF THE CLASS.
If you have children, good schools are probably #1 on your list of priorities. Happily, you can check that one off: Heritage Hills lies within the consistently high performing Douglas County School District. So you can rest assured your children will be in good hands from elementary through high school.
The Douglas County School District is a leader in Colorado's public education, outpacing state performance in every grade and on every subject tested by the Colorado Student Assessment Program (CSAP). The students at Douglas County schools exceed the state average by 12 to 21 percentage points. And students continue to widen the gap.
While the District offers strong support and coordination, each school also has the flexibility to build its own specialized instructional programs. Open enrollment allows parents in Heritage Hills to choose from a variety of elementary schools, charter schools, magnet schools, gifted and talented programs, an International Baccalaureate program, Advanced Placement courses, and many other special programs. And the District champions a well-researched, integrated and standards-based curriculum, a rich array of extracurricular offerings and strong community involvement.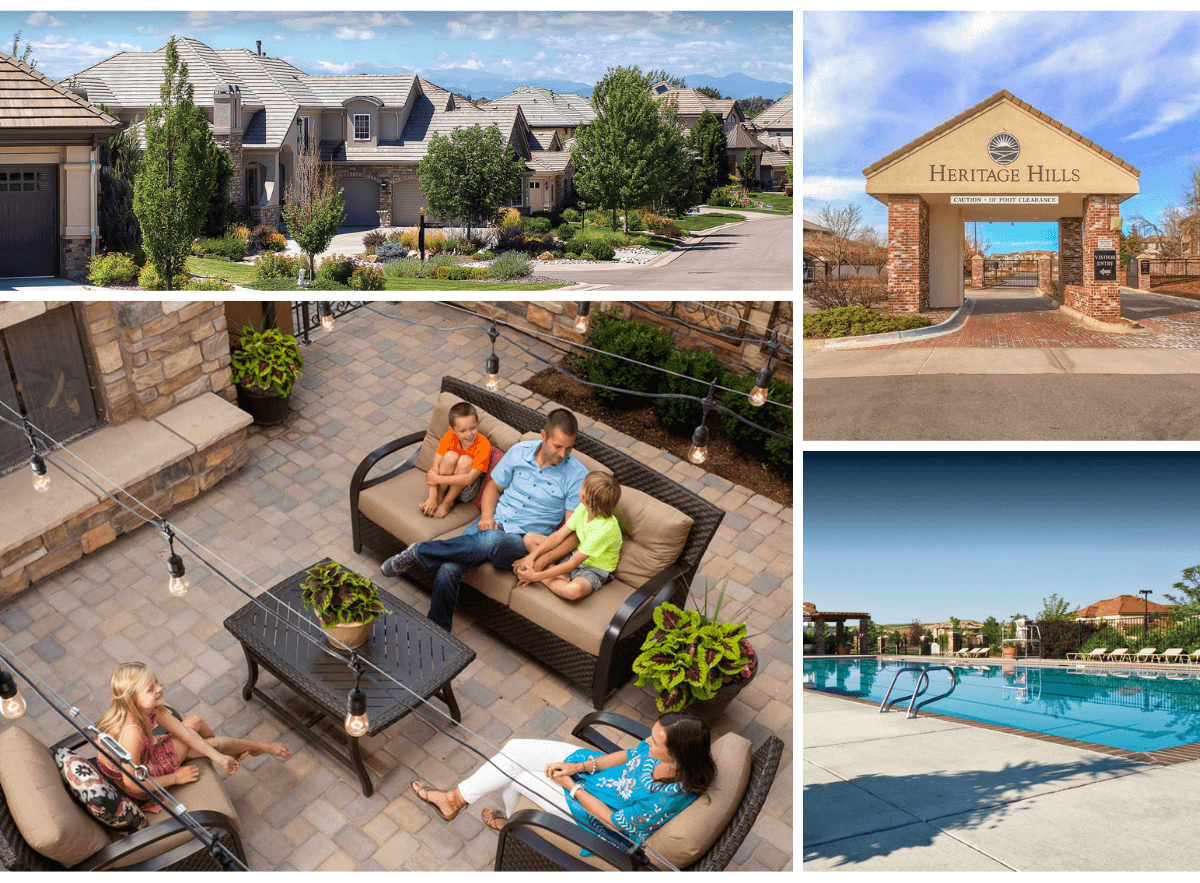 View the latest listings at Heritage Hills and contact Kate Roome below for more information.